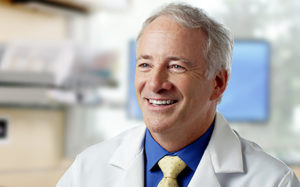 "The most important thing is providing my patients what they need. That's why I became a doctor: to care for people."
Dr. Landerholm graduated summa cum laude from Washington State University, and received his doctorate in Medicine from the University of Washington. He then completed his surgical residency at Swedish Medical Center in Seattle.
He has been a part of the medical community in Edmonds, Washington for more than 20 years and is now the Medical Director and President of Eviva. Dr. Landerholm has been at the forefront of minimally invasive surgery since its inception. In 1995, he became the first surgeon to perform a laparoscopic gallbladder removal surgery in a Malayan sun bear, an endangered species. He was one of the first doctors to place the intragastric balloon for weight loss during a recent FDA trial.
Dr. Landerholm is an expert in laparoscopic surgery and an innovator in techniques such as LapSleeve®. He has performed thousands of laparoscopic operations, and has earned a reputation for his precision, and for taking the time to know and care for his patients and their families. He has given multiple presentations on the surgical treatment of obesity, including international presentations in Vellore and New Delhi, India. He has been published in The American Journal of Surgery.
He believes in giving back to the community, which is why he established Surgical Teams International—a nonprofit providing surgical services in needy areas worldwide.
Dr. Landerholm is board certified in general surgery, a fellow of the American Society of Metabolic and Bariatric Surgery, and a fellow of the American College of Surgeons (ACS). He has served on the governing boards of the ACS-Washington State Chapter, and the Seattle Surgical Society. Dr. Landerholm is also a Verified Surgeon through MBSAQIP.
In his free time, Dr. Landerholm enjoys travel; he has been to all seven continents. He also enjoys writing, music, medical ethics, medical mission work, and time with friends and family.