Easy Keto Low Carb Pumpkin Pie Recipe (Sugar-free, Gluten-free)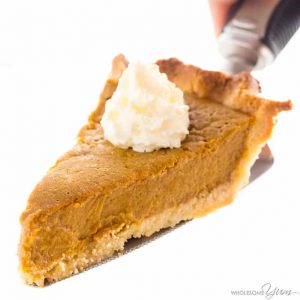 By: Maya Krampf on Wholesome Yum
Prep time: 15 mins 
Cook Time: 45 min 
Servings: 12 slices
Ingredients:
1 recipe Almond flour pie crust (or your favorite pie crust recipe)
1 15-oz can Pumpkin puree
1/2 cup Heavy cream (or coconut cream for dairy-free/paleo)
2 large Egg (at room temperature)
2/3 cup Besti Powdered Erythritol
2 tsp Pumpkin pie spice
1/4 tsp Sea salt
1 tsp Vanilla extract (optional)
1 tsp Blackstrap molasses (optional)
Directions:
Make the sweet almond flour pie crust according to the directions here.
Meanwhile, beat together all remaining ingredients at medium-low speed, until smooth. (Don't overmix.)
When the pie crust is done baking, reduce the oven temperature to 325 degrees F (163 degrees C). Cool the crust on the counter for at least 10 minutes, longer if you have time.
Pour the filling into the crust. Gently tap on the counter to release air bubbles.
Bake for 40-50 minutes, until the pie is almost set but still slightly jiggly in the center. (Check on it occasionally, and if you see the crust start to brown, cover the crust edge with foil and return to the oven until the filling is done. It should still jiggle a bit in the center, like a custard before it sets.)
Cool completely on the counter, then refrigerate at least an hour before slicing. Pie can be refrigerated overnight.
Garlic Mashed Cauliflower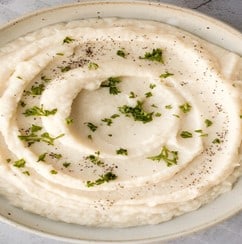 By: Andie on Allrecipes
Prep time: 15 mins 
Cook Time: 10 min 
Servings: 4
Ingredients:
1 head cauliflower, cut into florets 
1 tablespoon olive oil
1 clove garlic, smashed
¼ cup grated parmesan cheese
1 TBSP reduced fat cream cheese
½ teaspoon kosher salt
1/8 teaspoon freshly ground black pepper
Directions:
-Place a steamer insert into a saucepan and fill with water to just below the bottom of the steamer. Bring water to a boil. Add cauliflower, cover, and steam until tender, about 10 minutes.
-Heat olive oil in a small skillet over medium heat; cook and stir garlic until softened, about 2 minutes. Remove from heat.
-Transfer half the cauliflower to a food processor; cover and blend on high. Add remaining cauliflower florets, one at a time, until vegetables are creamy. Blend in garlic, Parmesan cheese, cream cheese, salt, and black pepper.
https://www.allrecipes.com/recipe/230816/garlic-mashed-cauliflower/
Roasted Bacon Balsamic Brussel Sprouts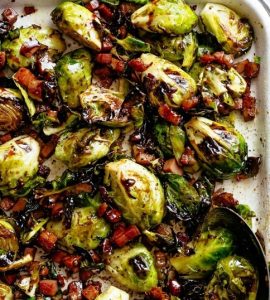 By: Karina on Café Delites
Prep time: 15 mins 
Cook Time: 25 min 
Servings: 6
Ingredients:
1 1/2 pounds Brussels sprouts washed and dried
4 ounces diced bacon or pancetta
1/4 cup good olive oil
4 cloves garlic crushed or finely chopped
1 teaspoon salt
1/2 teaspoon cracked black pepper
2 tablespoons balsamic glaze
Directions:
-Preheat the oven to 425°F (220°C). Lightly grease a large baking pan with nonstick cooking oil spray or a light coating of oil. Set aside.
-Trim the ends of sprouts and cut in half lengthwise.
-Arrange brussels sprouts, any loose leaves, bacon and garlic on the pan. Drizzle with olive oil. Season with salt and pepper. Toss well and spread mixture out in a single layer.
-Roast sprouts, turning once through cooking, until tender with charred edges. The bacon will be cooked and crispy (about for 25-30 minutes).
-Toss with the balsamic vinegar. Adjust taste with extra salt and pepper, if needed.
-Serve immediately.