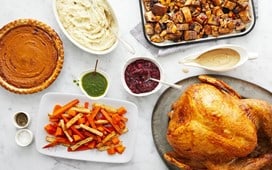 If surviving a global pandemic wasn't stressful enough, getting through the holidays for many can be a challenging time as well. From changes in travel plans, family gatherings, parties, and navigating the dinner table can feel quite overwhelming. But do know that you can be mindful of healthier choices and still enjoy some of your favorite holiday treats with a twist. Below are 10 holiday survival tips and tricks:
Don't skip your meals or attend a holiday party starving, this can lead to overeating.
Learn to eat slowly by taking smaller bites and breaks in between. Eating slowly with less distractions can lead to less food consumption. So, enjoying your amazing holiday meal.
Wait at least 15-20 mins before going back for a second plate of food.
You don't have to finish everything on your plate. Practice eating when you are hungry, and not because food is near. At the end of a party or gathering feel free to give leftovers away.
Learn to say "no thank you"
Be mindful of liquid calories such as alcohol. It may go down a lot easier but can be higher in sugar and calories. Alternate alcoholic with non-alcoholic beverages. And make sure to stay hydrated throughout the day with water.
Keep your body moving. Schedule some time for exercise like a leisurely bike ride, brisk walk around the block, or dance party with your holiday guest.
Use the buddy system. Try to find a family member, friend, or colleague who has similar health goals as you. Your buddy can help keep you motivated with check-ins.
Remember the holidays are not just about focusing on food. It is important to have fun and make memories with your loved ones.
Moving forward plan to get back on track after the holiday season ends with a return to healthier eating patterns & your normal exercise routine.