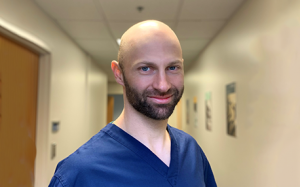 "I want to create a warm, engaging and safe environment for every patient"
Adam grew up outside of Atlanta and lived in the South until he left for University. He attended the University of Colorado at Boulder where he earned a BA in Molecular, Cellular and Developmental Biology. Thereafter, he worked at Boulder Community Hospital as a CNA, phlebotomist, and unit clerk.
He left for the Yale University PA program in 2008. He graduated in 2011 with a Master's in Medical Science. He wrote his thesis on the topic of the impact of metabolic surgery on pregnancy outcomes and fertility.
He took his first job at Swedish Weight Loss Services that same year and has spent his entire medical career in metabolic medicine and surgery. He is passionate and well versed in all treatment modalities for obesity and metabolic disease. He enjoys his time in the OR and strongly values being able to form longer term relationships and invest in his patients' successes. He is also passionate about his efforts to affect populational health positively in the setting of the obesity epidemic.
He and his wife and their two children have settled in Seattle.
When he is not working, he is an avid skier and cyclist. He plays guitar and piano and sings in a local band. His other interests include chess and finance. He has had a long athletic career playing ultimate frisbee. He currently plays for the Seattle Cascades, the local professional team in the American Ultimate Disc League.