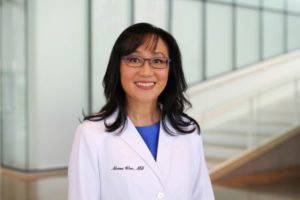 "Look your best, feel your best."   
Dr. Won is committed to providing customized, personal care in a welcoming environment.  Her goal is to be able to understand your vision and offer options to achieve that.  Whether your goals are to enhance your appearance or improve your quality of life, she believes that self-confidence is the key to presenting your best self.  Dr. Won strives to provide high quality care both in the operating suite as well as afterwards to ensure optimal results.  She offers cosmetic procedures in the areas of breast enhancement, body contouring, and post weight-loss surgeries. 
Dr. Won grew up in sunny California, graduating magna cum laude with a BS in biochemistry at the University of California, Los Angeles followed by medical school at the University of California, San Diego.  She subsequently moved to Iowa City for general surgery residency at the prestigious University of Iowa Hospitals & Clinics, then moved further east for additional fellowship training in cardiothoracic surgery at SUNY Syracuse.  There she met her husband and convinced him to move back to the west coast.  Dr. Won practiced general surgery in Yakima WA while starting and raising her family.  After moving to Seattle, she developed an interest in cosmetic surgery and ultimately spent one year devoted to learning the practice and artistry of cosmetic surgery through a fellowship with the American Academy of Cosmetic Surgery, completing over 500 cases. 
Dr. Won has always been passionate about international travel and learning about other cultures.  She feels lucky to be able to share that with her family, and they've had many adventures together.  Her 2 sons keep her on her toes, and have taught her much about patience and being present in the moment. Dr. Won and her family love the Pacific Northwest and stay active in their free time biking, hiking, skiing, and playing badminton.