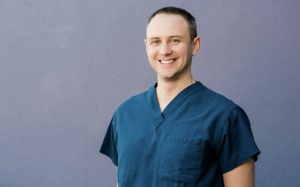 Dr. Brandon VanderWel is passionate about being a part of the life-changing process of bariatric surgery, and makes an effort to get to know his patients and their families. He believes health is improved when a patient is treated as a whole person, not by individual problems.
Dr. VanderWel is committed to furthering the field of minimally invasive surgery, and is constantly evaluating ways to improve the patient experience. He was the first provider in the Pacific Northwest to offer the endoscopic sleeve gastroplasty (ESG) and has gone on to become an expert in ESG. He is now the busiest and most experienced ESG provider in the western US. He instructs ESG training courses and is requested to speak nationally and internationally.
Dr. VanderWel received his MD from Loma Linda University in Southern California, and then completed his surgical residency at Swedish Medical Center in Seattle. During residency, Dr. VanderWel developed a passion for bariatric surgery. He went on to complete a fellowship in minimally invasive and bariatric surgery at Legacy Good Samaritan Hospital in Portland, Oregon. He is board certified in general surgery. He is a candidate fellow of the American College of Surgeons and the American Society of Metabolic and Bariatric Surgery.
Dr. VanderWel and his wife love the Pacific Northwest and all the outdoor adventures it affords. When he's not chasing after his two young children, he enjoys biking, hiking, camping, and photography.