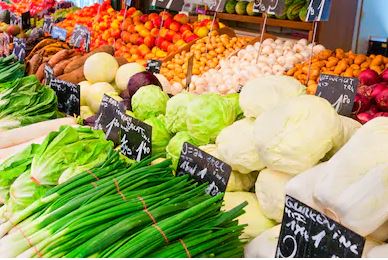 Late summer is a peak season for fresh, delicious local produce, and what better place to find it than at your neighborhood farmers' market? All across Washington State, farmers gather at these markets to sell their locally-produced goods. In addition to fruits and veggies, you may also find arts and crafts, fresh yogurt and cheeses, local meats, eggs, and ready-made meals.
So what are the benefits of shopping at a farmers' market? Fitting in fruits and veggies can be challenging for someone with a smaller stomach. All produce available at Washington markets is grown within the state. This means it's at its freshest, so every single bite is jam-packed with the nutrients and flavor your body craves. Additionally, it's a great way to learn about unfamiliar produce, get some exercise, and show your kids where their food comes from.
There is so much to look at and choose from at the market, it can be overwhelming for a new shopper. Here are some tips for navigating the market like a pro:
Farmers market tips
Dress comfortably. Markets are usually outdoors, so comfortable shoes (and sometimes a rain jacket) are key to an enjoyable market experience.
Go early. The best produce often sells out quickly!
Bring reusable bags. Vendors usually do not provide shopping bags, so come prepared with your own.
Bring cash. Some vendors accept cards, but not everyone does. Make transactions a little easier on yourself by keeping a few bills on hand.
Check what's in season before you go. A list can be helpful, but be flexible as availability can vary.
Walk through the whole market once before making any purchases. Scope out what looks good and who has the best prices.
Ask questions. Vendors can tell you the name of each item they sell, when it will be ripe, how to store it, and how to prepare it.
Embrace imperfections. An apple at the market may not be as pretty as the one you see at the grocery store, but once you taste it, you'll see that looks aren't everything!
Be mindful of your choices. In between those apples and zucchinis, there may be snack foods better saved for special occasions.
And on that note… Eat before you go. Just like at the grocery store, shopping on an empty stomach may lead to impulse buys and overspending.
And some special tips for smaller stomachs:
Buy small amounts. Markets usually carry produce in a variety of sizes so you can pick the amount you'll be able to eat! It is ok to buy 10 cherries, 1 pear, or half a dozen eggs.
Buy produce with a longer shelf life. Carrots, onions, sweet potatoes, winter squash, and beets are among many of the vegetables that stay fresh for a week or more, so they don't go bad faster than you can eat them. 
Aim for a rainbow of colors. Brighter vegetables are often packed with the most nutrients. For fun, look for unique colors like orange cauliflower, purple beans, or rainbow carrots. Bonus tip: eat the peels if they're edible – that's where most of the vitamins are! 
Eating protein first is always important, but even a bite or two of fruits and vegetables can add nutrients and flavor! Here are some tips for adding that local produce to your high protein meals:
Add fresh berries to Greek yogurt
Use butter lettuce to make tacos or tuna salad wraps
Toss chopped spinach or arugula and goat cheese into your scrambled eggs
Serve cheddar cheese with a few apple slices – try Honeycrisp, Braeburn or Ambrosia!
Blend a handful of raw kale and blueberries into a protein smoothie
Make a Caprese salad with sliced tomatoes, fresh mozzarella, basil, and balsamic vinegar
Serve a side of roasted asparagus with grilled salmon
Munch on cherry tomatoes and cucumbers dipped in hummus or tzatziki (yogurt dip)
Make a lentil soup with pureed winter squash – try butternut, Kabocha, or Red Kuri!
Your provider may have recommended a specific carbohydrate target. If this is the case, these lower carbohydrate veggies may be easier to fit in: leafy greens, broccoli, asparagus, cauliflower, cabbage, mushrooms, zucchini, green beans, tomatoes, and celery.
Resources:
To learn more about markets, including locations, times, and what's in season, visit www.seattlefarmersmarkets.org , www.pugetsoundfresh.org or download the mobile app "Puget Sound Fresh."